Solid Surfaces Manufacturing Process
Time:2022-05-03
Views:127
Manufacturing Process
1. Ingredients
Solid surfaces are manufactured using Methyl Methacrylate (MMA), Poly Methyl Methacrylate (PMMA), Alumina Trihydrate (ATH) and pigment. Alumina Trihydrate gives the solid surfaces the property to resist stain and fire. The ingredients are mixed and stirred then left to dry.
The materials used are calculated well and used appropriately without affecting the end product.
2. Processing
Innovation and craftsmanship are used to turn the end product into sheets. Taking transportation of final products into consideration is important. If the final product has irregular shapes, they are cut into different pieces then glued together at the customer's desired place.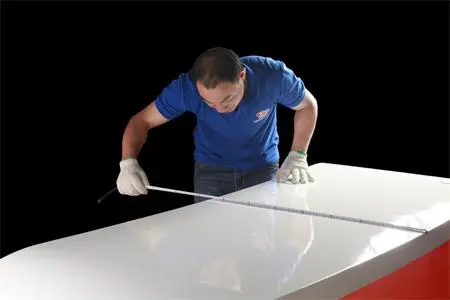 3. Splicing Process
Seaming is later done by joining the edges of pieces using an appropriate adhesive. The ingredients, color and smoothness of the splice joint are checked before applying the glue.
The edges must be cleaned with ethanol and dried with a white cloth before using adhesive. Glue is used on one side of the piece, and then the two pieces are joined.
An F clip is used to help fasten the two pieces together. Attention is paid to the parts of the F clip. It should be balanced with the magnitude of the clamp being not too heavy or too light.
4. Trimming Process
After gluing the pieces, Glue is left dry then edges are trimmed to give it a perfect finishing to the desired shape.
5. Sanding Process
The sanding process follows by sanding surfaces with an orbital sander. This is done by following the north-south and East-West directions in circular motions. The sanding process is started with a rough sander paper then graduating gradually to using a fine sander paper.
6. Polishing Process
The solid surfaces are then polished using sander and polisher to get the final product. The end product might be matte or a glossy surface depending on the desired outcome.
7. Finishing Process
Finishing is done to reference with the desire of the customer. The finishing process can be done in any of the three steps in reference to the customers' needs.
• The solid surfaces can go through the sublimation process. This is done by transferring images to the solid surfaces almost prefer a human tattoo. The images after that are not removable because they are within the surface.
• The solid surfaces also can be finished by translucency process. This is done by using translucent colors or reducing the standard thickness of DuPont Corian colors.
• Finally, the finishing can also be done through illumination series. This means if there is light behind your design, the appearance of the solid surface changes and it is dominated by the light source.
With the above process, high-quality solid surfaces are produced. They have been tested for their mechanical, thermal and electrical properties. Also, they have been certified to be hygienic by an independent laboratory according to the international marketr